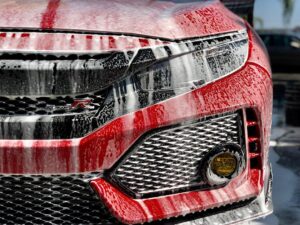 Cleaning you car can be challenging because of new water restrictions near Downey. From the state and the wide variety of detailing supplies available. Selecting the best products could be a bit frustrating. Here we will break down the process of choosing step by step.
The first step into detailing your car should be performing a car wash. All the dirt, surface and oil contaminations should be removed to achieve results you will be happy with. If you use soft water from a pressure hose to remove all those contaminants, it will make it easier to dry the car leaving less of a chance to leave water spots.
Next you can use clay to remove surface toxins that stay on the paint after a car wash. It leaves a clean and sleek surface. Although your car looks really nice after claying it, small scratches and swirls will remain.
If the paint is scratched, you can purchase a polish to smooth out the area. The last step for the paint is adding a sealant. The paint sealant provides protection to the cars paint job. It is the last finishing detail to assure the paint stays glossy and free of blemishes.
So instead of looking for a place to perform a car wash on your car you can stop by ADSO in Downey to pick up all the right supplies you will need to get the job done yourself. We have knowledgeable staff that can provide answers to any questions you might have.